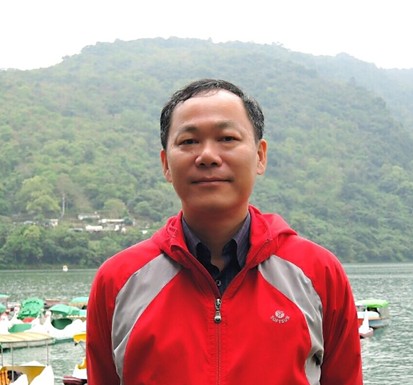 陳耀漢 副教授
電話:(05)2267125轉22280
傳真:(05)2065112
辦公室:花明樓TB518研究室
E-Mail:yhchen@wfu.edu.tw
學歷:
經歷:
消防系副教授 (2019/02~迄今)
消防系系主任 (2018/08~2020/07)
秘書室議事行政組 組長(2010/08~2018/07)
消防系助理教授 (2004/08~2019/01)
化學工程系助理教授 (2000/08~2004/07)
教務處註冊組長(2001/02~2008/07)
考試院考選部/消防警察特考,命題及閱卷委員
考試院考選部/專技人員高普考消防設備人員考試,命題及閱卷委員
雲林縣政府消防局火災鑑定會委員
2019年台南市政府社會局老福機構輔導計畫輔導委員
教授課目:
火災學、消防學、消防法規
水系統消防安全設備、化學系統消防安全設備、警報系統消防安全設備、避難系統消防安全設備、消防滅火設備實務
長照機構防火安全、防火管理、都市防災、消防化學
研究領域:
滅火系統消防安全設備分析
火災原因調查
熱傳、流力分析
計算流體力學
論文與著作:
ChungHwei Su, ShiuanCheng Wang, YaoHan Chen, CheYi Wu, Measurement of smoke generation rate using a full-scale hot smoke test for building smoke exhaust systems, International Journal of Ventilation, 2020 Dec.
JiaYuan Shi, YaoHan Chen, ChungHwei Su, ShiuanChen Wang, YungChang Yang, "Analysis of makeup air in a natural smoke vent system in a tall space using numerical simulation and Schlieren technique", International Jounal of Numerical Methods for Heat & Fluid Flow, 2018.
YaoHan Chen, ChungHwei Su, JoMing Tseng, WunJie Li, "Experimental and Numerical Analysis of the Cooling Performance of Water Spraying Systems during a Fire", PLoS ONE, 2015,10(2): e0118306.
Mingtsu Ho, Yung-Chin Lin, YaoHan Chen, Wen-Chiang Lind, Transmittance and Reflectance of EM Gaussian Pulse From Vibrating Half-Space Of Lossless Medium, International Journal of Electrical Engineering, Vol. 18, No. 2, pp.73-81, 2011.
Mingtsu Ho, YaoHan Chen, One-Dimensional Numerical Solution of the Maxwell-Minkowski Equations, Tamkang Journal of Science and Engineering, Vol. 12, No. 2, pp. 161-168, 2009.
H. Chen, H. T. Lin, 1997, Vol. 33, "Natural convection in an inclined enclosure with a fluid layer and a heat-generating prorus bed", Heat and Mass Transfer, pp. 247-255.
T. Lin, Y. H. Chen, 1994, Vol.37, "The analogy between fluid friction and heat transfer of laminar mixed convection on flat plates", Int. J. Heat Mass Transfer, pp. 1683-1686.